Resurrection Gate
Hello again! It's been... let's call it "a while" since my last post, but development hasn't stopped, so let's get up to speed!

Thank You
Thank you so much for your patience when it comes to these rather infrequent public updates. This year has not been too kind to me, but working on Resurrection Gate when I can gives me a lot of joy. It means a lot to me to know that anybody at all is intrigued by this game or looking forward to it.
I do post more informal devlogs every month on Patreon, covering monthly RG progress as well as other projects I'm working on. Currently, I'm a writer and producer for A Compendium for Lesser-Known Cryptids, I'm joining Lena Nguyen's Shepherds of Haven to design and implement UI, and I'm finishing up some other freelance projects and contracts, while also being a caregiver at home. In the interest of both avoiding burnout and making Resurrection Gate as good as it can be, I'm not placing a definite release date or deadline on the game for the time being, but it's still in development and I'll be sharing more updates going forward!

Progress!
I'd like to summarize some of what's been going on behind-the-scenes throughout 2021 and into 2022!
👁️ Welcoming Jay Schriber to the lich coven as an illustrator! Jay's work is gorgeous and you can check out more of it on his website. He's done two stunning illustrations for the game which I'm excited to highlight more as we get to know the characters they depict.

👁️ Two new NPC portraits from portrait artist Rowan! They really bring the undead to life. Rowan is amazing at drawing skeletons and desiccated flesh. I'm excited to unveil these NPCs in a forthcoming devlog!

👁️ New music from composer Ruune! The OST is coming together beautifully and we're so excited to share it when it's done. For now, it's still in the works, but you can hear some tracks in the trailers I post.
👁️ A huge UI overhaul! A lot has changed, from fonts to colors to pretty much everything else. The stylesheet is in good shape, and a large amount of other programming is squared-away and functional at this point.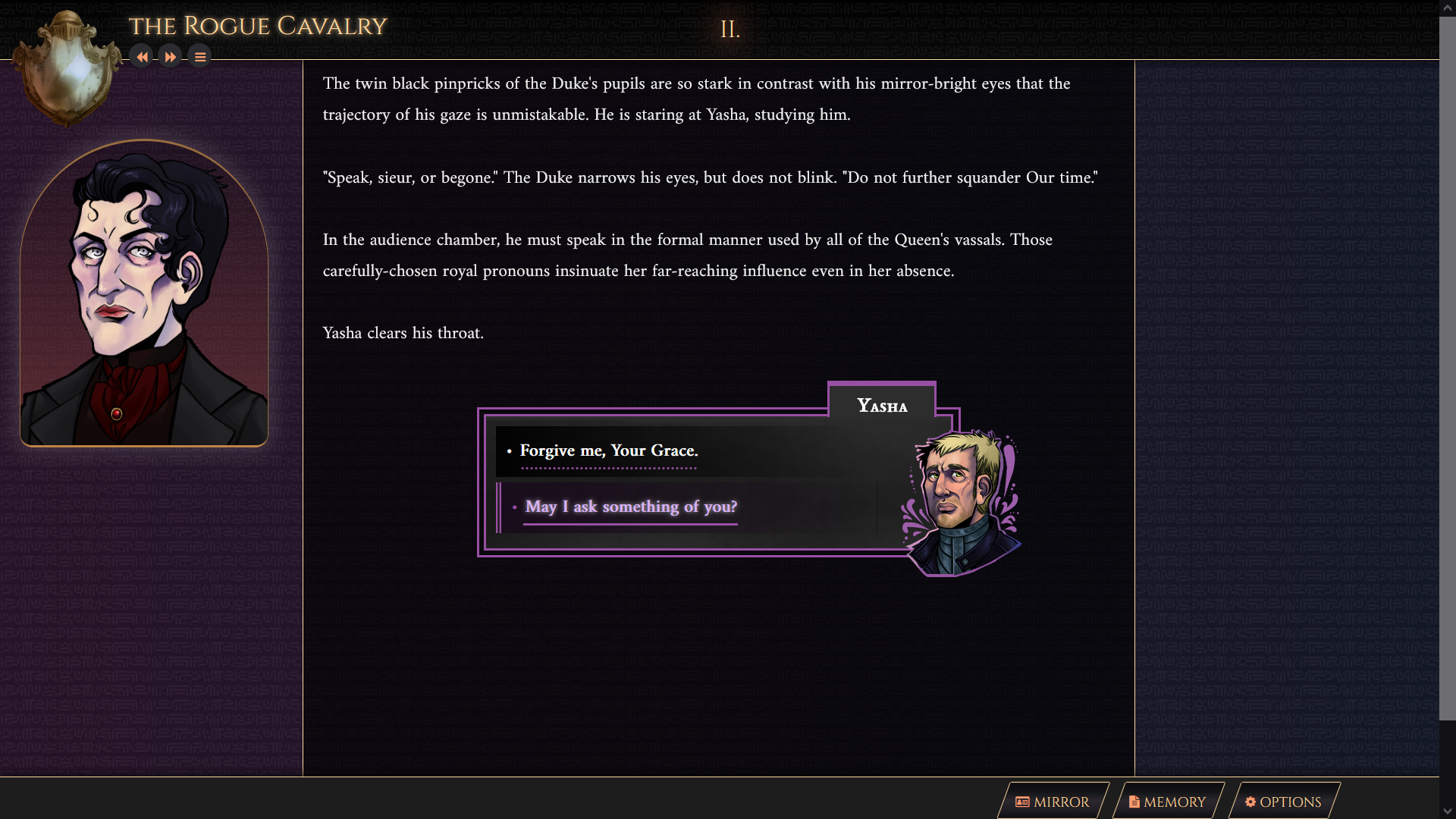 👁️ A robust settings menu, allowing players to change the game's font, font size, color scheme, and other options.
👁️ Improved mobile compatibility! The game plays and displays well on smaller screens now, which is something I've been working toward for a while. Being able to play on a mobile device is going to come in handy for testing and debugging as well, since I'm not always able to be jacked directly into Twine.
👁️ A new teaser trailer! It features some snippets of gameplay as well as artwork, including a peek at Jay's latest illustration, and music by Ruune.
👁️ A new logo, which you can also see in the trailer! It's still under construction, but I've finally found the perfect fonts.
👁️ Of course, writing. I've been doing plenty of plotting, outlining, narrative design, and writing in the last several months.
Overall, despite progressing slowly, things are going well. I'll continue posting the usual informal monthly updates on Patreon, while these Itch devlogs will be reserved for more structured posts, like introducing characters and mechanics.

Thank you again for your support!

Until next time,
Grim