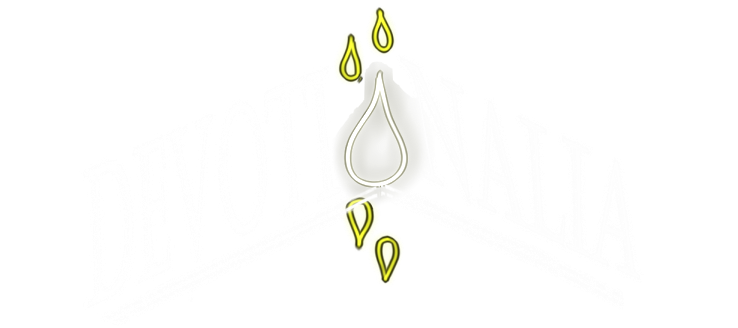 DEVOTIONALIA

7-11-2020: DEVOTIONALIA has been updated!
View the devlog for more info.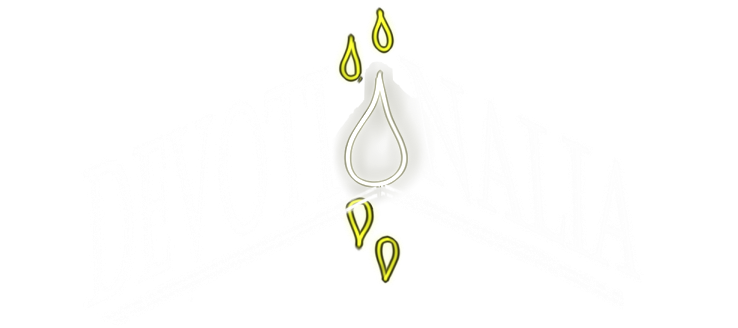 "The high priest of an obscure cult is preparing a ritual. Don the priest's sacred mantle, for these holy labors are yours to direct. You may carve a votive, lead a prayer, or make a sacrifice — but you must see to the task with care. Unearthly eyes gaze down upon you from the sea above. Will your devotion reach them?

Does it matter? "


DEVOTIONALIA tied at 20th place out of of 77 total entries in the 24th annual Interactive Fiction Competition of 2018.
This post-competition release:
fixes bugs
makes certain hyperlinks more visually accessible
includes an epilogue made available when one of each ritual has been completed
For more information, download the Devotionalia Walkthrough below, or read the Devotionalia Post-Mortem thread.


The intimacy of ritual:
Choose from three rituals to direct in the hopes of best serving the object of your devotion, reflecting the core tenets of its history and worship. DEVOTIONALIA cannot be won, but it cannot be lost.

Seas beneath seas:
An engaging, uncanny setting populated by strange beings inhabiting a sea bordered above and below by impenetrable waters.

A standalone vignette:
DEVOTIONALIA is but one moment in a larger world; it is the first installment in an IF series called SACRED TIDES. Its world will be explored further with the upcoming installment HERETIC'S HOPE in DECEMBER 2019.

Special
thanks:
Heartfelt gratitude toward my 7 excellent testers, the 76 other IF authors whose work has been so inspiring, countless IFComp judges, and all of the 24th IFComp's organizers and enthusiasts. Thank you so much!

Reviews:
"Music, darkness, melancholy, the unknowably alien, and the space to absorb them. That's the mood which Devotionalia is after, and it skewers it like a moth on a specimen-board."
— Sam Kabo Ashwell

"In a way, this game reminds me of the works of Chandler Groover and Phantom Williams. It has a similar rich aesthetic. A surreal, haunting feel. A sense that there's more hidden below the surface. [...] The interface matches the ambition of the prose. The music is atmospheric and appropriate. The aesthetics of the design are completely aligned to the game experience.

It's something a little bit special, this."
— McT's Interactive Fiction Reviews
"Together with the glowing hypertext links and the echoing chants of the background music, the whole package is a hauntingly beautiful piece [...] As a breakfast, I think it's rice congee with a firm, white fish, topped with flakes of crispy fried onions and fresh chives. It has an ascetic look, but threads of ginger and sesame oil boiled in with the rice make it surprisingly flavourful. And then, piping hot green tea."
— Christopher Huang, The Breakfast Review
"There is a gloom to the writing, yet an incredible sense of imaginary worlds constructing themselves around you. The language and style swaddles you in the meaning and life of this cult, accepting its reality and carrying you along with it."
— Joel Couture, Indie Games Plus

"The pensive mood of the game supports its plot. The author handles the alien details of the world well, showing rather than telling and focusing on the story rather than belaboring the setting details. It's a much more original setting and plot than most games have, and the author provides just enough details to make it comprehensible but still mysterious, befitting the priest's uncertainty about [their] gods."
— IFComprehensive
| | |
| --- | --- |
| Status | Released |
| Platforms | HTML5 |
| Release date | Dec 31, 2018 |
| Rating | |
| Author | Grim Baccaris |
| Genre | Interactive Fiction |
| Made with | Twine |
| Tags | Dark Fantasy, Fantasy, ifcomp, interactive-fiction-competition, mythology, Narrative, ritual, Text based, Twine, weird-fiction |
| Average session | About an hour |
| Languages | English |
| Inputs | Mouse |
Download
Click download now to get access to the following files:
DEVOTIONALIA Walkthrough.txt
5 kB
DEVOTIONALIA - Downloadable Version.zip
39 MB
Comments
Log in with itch.io to leave a comment.
This was great. Gave me feelings of foreboding, awe, and intrique like few narrative works do.
This made my day. I'm thrilled that this narrative was able to evoke such strong feelings. Thank you so much for playing and commenting!