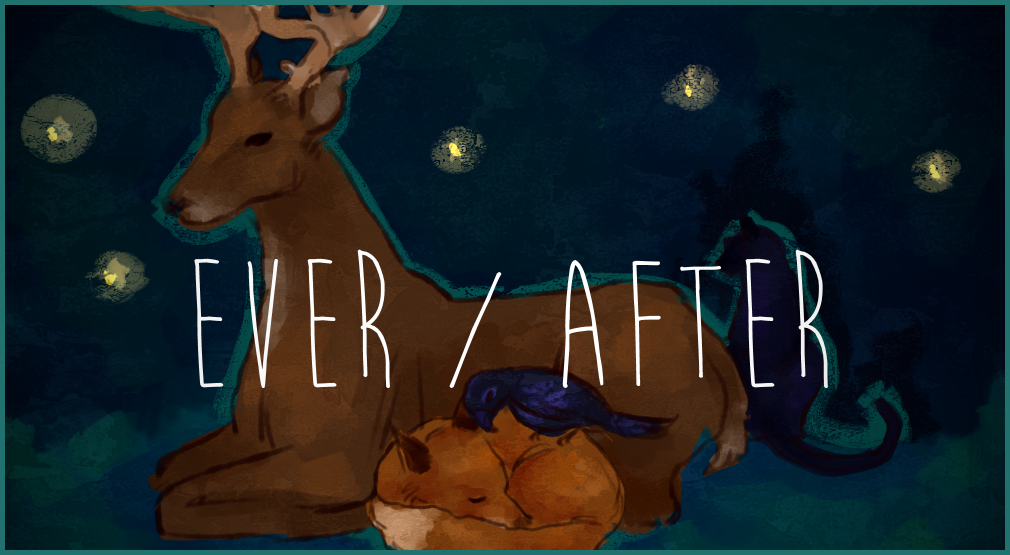 ever / After
"[...] legends
in the evening
of monstrous battles, and secret
betrayals in the forest..."
— margaret atwood, the circle game

made in 14 days for My First Game Jam: Summer Edition, ever / After is a short, simple platformer based on the fable of The Fox and The Cat. i've never tried to make a platformer before and i've never worked with construct 2, so it's really floaty and rough around the edges, but at least i learned a lot and kept it simple!
the game is ultra-short, spanning only a handful of screens. in the future (read: in the very distant future, when i have the money for a license), i'd like to expand on it and polish it a bit more; future additions i want to add include more animations (sadly the pc has no jump animation atm) and more events and interactivity; i was just on the cusp of the 100 events that construct's demo allows, so i couldn't add any more npc interactions.
(((edit: i've (very belatedly) realized that the custom font i'm using for this game doesn't show up for anyone else!!! this is totally my bad for not knowing that would be the case but oh man, i'm sorry! it looks so janky!!! i'll sort this out soon.)))

controls:
movement » arrow keys
restart level » R

if you run into any bugs or issues of any kind, let me know and i'll do my best to sort them out. thanks (and sorry about the floaty controls)!

credits:
sound effects by freesound.org users: alienxxx, cuddlenucks, exuberate, goodlistener, naturenutt, newagesoup, nigelcoop, & vixuxx
featuring "Willow and the Light" by Kevin MacLeod (incompetech.com)
Licensed under Creative Commons: By Attribution 3.0 License